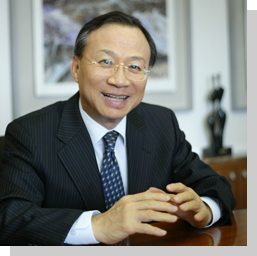 CEO Kim Dong-Jin
Hello?
I am Kim Dong-Jin, President and Chairman of iA Inc.
I extend my sincerest appreciation to all customers and shareholders for their strong support and encouragement of us
We will exert the best efforts to turn iA Inc. into a global automotive non-memory semiconductor company. and place it on a robust growth path
Automobiles are evolving into cutting-edge electronics incorporating the IT(Information Technology), shifting away from simple assembly of mechanical parts. It is non-memory semiconductor technology that drives the trends towards electronic and intelligent automobiles. Demand for semiconductors has been skyrocketing amid the evolution of automobiles. Korea still has reliance on imported semiconductors for automotive applications despite the rising demand for automotive semiconductors and the nation's status as global automobile powerhouse. However, Korea has successfully developed the world's best semiconductors in the field of automotive semiconductors where there is still a dependence on imports. This raises expectation for technological self-reliance
iA Inc. is proceeding constantly with development of indigenous automotive semiconductors based on excellent technologies and stands at the forefront of efforts in a broad range of areas from automobile-related infotainment to body/chassis application. Now, iA, Inc. will take the lead in promoting technological independence in the field of automotive semiconductors currently being dominated by developed countries, thus bringing a sea change to the landscape of future automobile sector. iA Inc. will continue to expand localization and development, improve technologies relentlessly, and promote various cooperative relationship, so that it can be transformed into a global non-memory automotive semiconductor companyand solidify its leading position. Moreover, iA has huge expectations for future growth of key industries such as multimedia and internet phone industries.
iA Inc. will maintain the balance between those business areas and automotive semiconductor sector to further improve business performance and bring greater customer satisfaction. iA, Inc. will be at the heart of the automobile sector and join the ranks of global top 10 non-memory semiconductor company to reciprocate the trust and support of our customers and shareholders.